Multibanco, MBWAY and PAYSHOP payments has numerous advantages for your business:
free for users

payments 24 hours a day with real-time notifications

secure payments in Multibanco ATM, MBWAY and PAYSHOP

protected user data, no need to enter bank or card information

multichannel payments: multibanco ATMs, Homebanking,
mobile phones, mPOS, MB SPOT network, MBWAY,
PAYSHOP network, Post Offices

directly from user's bank accounts
no need for pre-load wallets

fully checkout inside seller's website

free APP for payments tracking

more automation, less administrative work,
greater effectivness sales
Annual Payments Ifthenpay (M€)
Number of Merchants
Entidades Aderentes por Distrito (Volume em M€)
Distribution by Sector (Volume in M €)
Payments by Terminal Type (%)
1
The Multibanco, MBWAY or PAYSHOP references are automatically integrated in your online store, emails, SMS, traditional paper documents like invoices or orders
2
Immediately after payment, in real-time, ifthenpay notifies you (by email, push notifications, callback, webservice, or just check our APP or backoffice)
3
Ifthenpay daily transfers the payments amount less the comission
Where to Use
Integrated in your e-commerce platform or other digital platform:
in a fully automated way, your client on check-out choose the desired payment method and make the payment;


you are notified in real-time of the payment and you can immediately make the product or service available to your client;


we offer integration plug-ins for most e-commerce platforms and other platforms;


Integrated in traditional documents such as invoices or quotes:
invoices can include an Multibanco reference, facilitating client payments and also facilitating payments reconciliation (which can be automated);


most billing software already offers integration with our service or can be easily integrated;
IFTHENPAY backoffice or APPs:
it is possible to generate Multibanco or MBWAY requests directly in our backoffice or APP and send them to customers;


so, even if you don't have an online store (or in addition), you can receive digital payments remotely;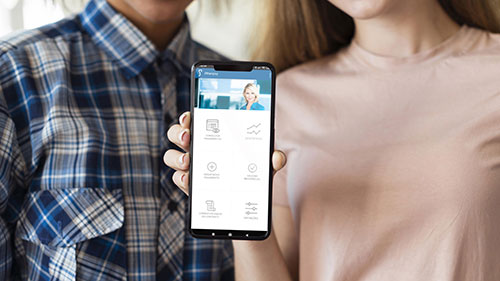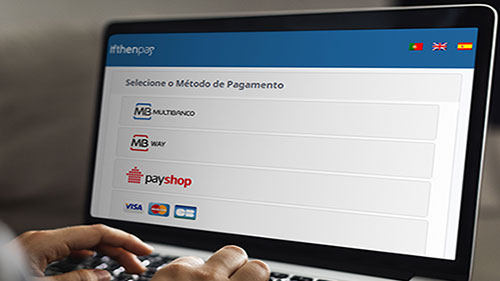 Through a link to our Gateway ("Pay-By-Link"):
It is possible to place on any website, software, social networks, e-mails, event registration forms, donation forms, etc., a link that gives direct access to our Gateway where the user will choose the desired payment method and make the payment.


Events:
if you need a form for registration for events, training, seminars, whether in person or online, with integrated payments, contact us because we have a quick and easy solution to integrate without additional costs;


Donations and Quotas:
if you need a "DONATE" button to receive donations, or receive quotas from your Associates, contact us because we have the solution to achieve it quickly and without additional costs;


Direct Selling:
if you don't have an online store, but you have a website, a page on social networks or simply integrate in your emails the possibility to sell online through digital payments, contact us that we have the solution to do it immediately in a simple way and without additional costs;


Receiving Invoices from your Company:
receive payment of your invoices by MultiBanco Reference, Mbway, Payhsop, or Credit Cards (anywhere in the world), with a simple link;


Simplified integration:
if you need to integrate payments on your specific platform, you can do it simply and quickly, through a simple link;
0.22€ + 1.7%

0.07€ + 0.7%

0.57€

0.22€ + 1.7%*
FOR EACH EFFECTIVE PAYMENT
(+ VAT)
* Price for Credit/Debit cards in the European Economic Area (EEA).
In the case of business cards or outside the EEA, 1% is added.
No activation fee, monthly fee or membership;
No initial investment in Hardware or Software;
Only the references actually paid are collected;
Free Real-time notifications;
Free daily transfers;
No minimum transactions, deadlines or exclusivity contracts;
Free plug-ins for most e-commerce platforms and billing software;
Free technical assistance;
Free APP for payments tracking.

We are market leaders and the first to make this service available in Portugal.
Our Multibanco entities are: 10559, 11202, 11473, 11604, 11686, 11687, 11802, 11873, 11925, 11988, 11989, 11990, 12133, 12177, 12178, 12179, 12262, 12263, 12288, 12333, 12351, 12352, 21721, 21874, 12374, 12375, 12376, 12377, 12378, 12470, 12471, 12472, 12473, 12474, 12476, 12513, 12514, 12515, 12516 and 12517.
Our entity PAYSHOP is: 10216.
13 Dezembro 2021
Partnership IFTHENPAY - VISA
---
Through this partnership, Ifthenpay allows its customers to receive payments through Visa cards, issued by national or foreign banks, from anywhere in the world.
Merchants who sell abroad can thus receive their payments easily, conveniently and securely.
Ifthenpay intends to help Portuguese merchants to expand their business to the world.

About Visa
Visa is one of the world's leaders in digital payments. Its mission is to connect the world through the most innovative, reliable and secure payment network, enabling individuals, businesses and economies to thrive. Its advanced global processing network, VisaNet, offers secure and reliable payments around the world and is capable of processing more than 65,000 transaction messages per second. The company's focus on innovation is a catalyst for the rapid growth of connected commerce on any device and a driving force behind the dream of a cashless future for everyone, anywhere. As the world transitions from analogue to digital, Visa works brand, products, people, network and scale to reshape the future of commerce.

To find out more about this partnership, see Visa's page at the following link.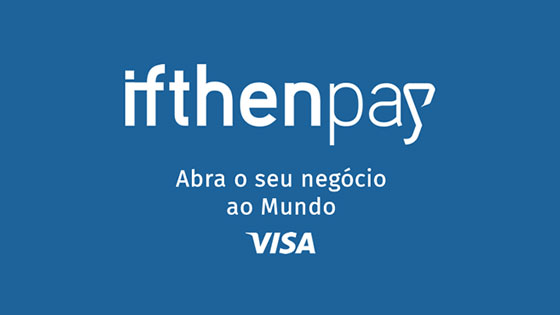 04 Janeiro 2021
New ifthenpay television campaign
---
Today started a television campaign with the following message:
"In an online world, buy and pay securely at a distance ... and get closer to whoever matters most!"
14 Maio 2020
Ifthenpay: Simplify payments in times of distance
---
«Innovation». Over these 15 years, this has been our challenge. The goal is to respond to the needs of each company.
Ifthenpay works to automate digital payments and with the pandemic, the volume of business has increased. Thanks to you! That continues to trust us.
28 Junho 2019
PAYSHOP (CTT Group) and IFTHENPAY sign partnership for payments
---
PAYSHOP signed a partnership agreement with IFTHENPAY. From now on, the entities adhering to IFTHENPAY, have the Payshop references, as well as the Multibanco and MB Way references. The Payshop references allow cash payments in PAYSHOP network and Poste Offices... the bigger cash payments network in Portugal.
The agreement was signed at the headquarters of the CTT Group, with the CEO of PAYSHOP, the Executive Administrator of CTT Bank, and the Executive Administrator of CTT.
25 Outubro 2018
IFTHENPAY at the Money Conference 2018
---
IFTHENPAY is pleased to announce that its CEO was a speaker at the Money Conference, organized by Dinheiro Vivo / TSF, Global Media Group, held on October 25 in Lisbon.
The theme was "The Future of Money: How Banking and Fintechs Get Ready for 2030."
In addition to the CEO of IFTHENPAY, the Minister of Economy, CGD CEO, Millennium BCP CEO, NovoBanco CEO, Bankinter Portugal manager, APB President, the person in charge of PayPal, and other responsible of Fintechs was present.
17 Maio 2018
MBWAY Integration
---
IFTHENPAY is pleased to announce the MBWAY integration into our payments gateway.
The launch of the new service was done at WordCamp Porto 2018, at the Engineering University, member of University of Porto, on May 18.
With this payment method, your customers will be able to pay you by MBWAY smartphone APP, both for remote payments and for face-to-face payments.
Our APP turns your smartphone into a virtual mPOS to receive by MBWAY, with no upfront cost or monthly fees.
Advertise now in your shop "WE ACCEPT MBWAY"!
05 Abril 2018
€ 1,000 millions of payments
---
IFTHENPAY reached €1,000,000,000 in volume of accumulated payments on 5 April 2018.
We were the first of the new FINTECH in Portugal to reach this value.
We thank all our customers, employees and partners for this stage.
These billion are not ours ... they are from more than 10,000 adherent companies that use our payment service every day. It is a result of its growth, the quality of its products and services, its technological development effort and the confidence of its customers.
It's one billion satisfied customers, one billion paid invoices, one billion fulfilled responsibilities, one billion paid products, one billion online sales, one billion trips made... one billion dreams come true!
As we have not forgotten our origins, and as a way to mark this stage, we offer a donation of € 1,000 to our first customer, the Firefighters Volunteers Santa Maria da Feira, who had the 1st payment on 10/17/2005 at 13:05H, in value of € 24.

But, these are only the first billion. What we want is to continue to grow with you, and that soon, together, we can multiply this value!